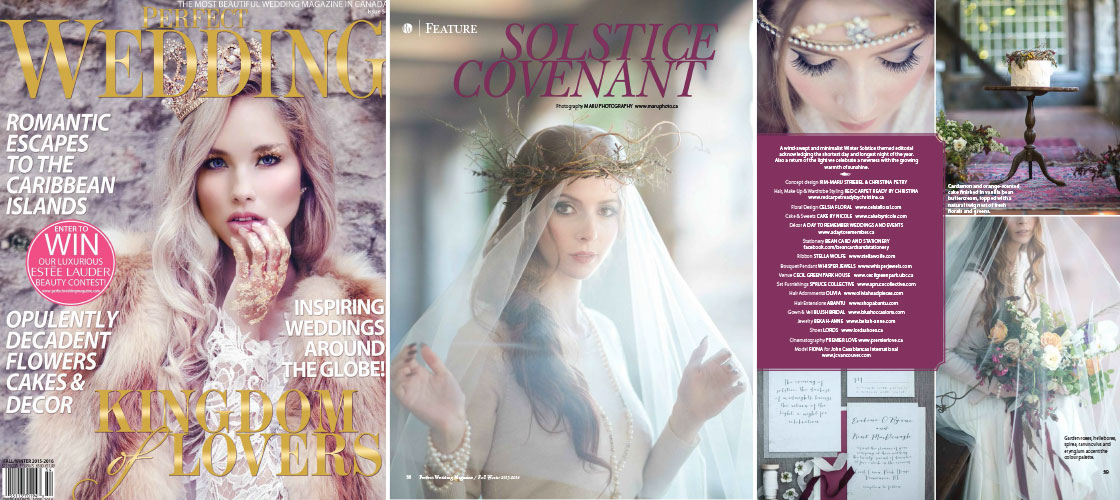 If you go to work and you love your job…bonus…but if the team you work with you also love 'and' can't wait to work with…Well that's the lottery!
Every time we collaborate, our talents mesh so well…and we are able to create and tell very cool stories.
On stands now is the 2015/16 Fall/Winter Issue of Perfect Wedding Magazine, with a 4 page feature of our 'Winter Solstice' Editorial.
Team of Professionals who made this shoot happen:
Maru Photography-Concept Design, Photography
Red Carpet Ready by Christina-Concept Design, Makeup, Hair, & Wardrobe Styling
A Day to Remember Events-Decor
Cake by Nicole-Cakes & Sweets
Celsia Floral-Floral Design
Whisper Jewels-Bouquet Pendant
Bean Cards & Stationery-Stationery
Stella Wolfe-Ribbon
Bekah Anne-Jewelry
Lord's Shoes-Shoes/Purse
Blush-Gown/Veil
Premier Love-Cinematography
John Casablancas Vancouver-Model 'Fiona'
Abantu-Hair Extensions
Check out more photos here of our decadent shoot, shot on location at the beautiful Cecil Green Park House!