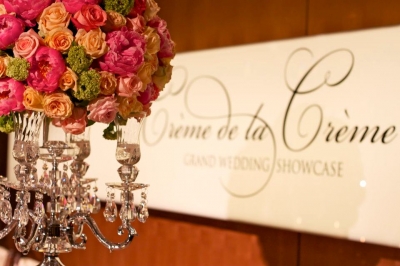 This past Sunday, I attended Creme-de-la-Creme Wedding Show put on by Countdown Events. www.grandweddingshowcase.com
Since a huge part of my business is doing weddings, I wanted to go check it out as I heard it was a huge production.
It didn't dissapoint! It was held at the Four Seasons Vancouver www.fourseasons.com/vancouver, and it was spread out into various ballrooms. Lots of room to move around and not stuffy at all.
As a huge lover of Runway shows, this one was definitely top notch! With all the latest wedding trends, gowns were featured from Vera Wang www.verawang.com, Monique L'Huillier www.moniquelhuillier.com, Nicole Miller www.nicolemiller.com, Oscar de la Renta www.oscardelarenta.com, and Christos www.cristosbridal.com…to name a few!
The dresses were gorgeous and such a statement on their own. Christos Wedding Gowns for example, were fairytale, girly and danty, love this type of style, and with Amsale as the creative director, these dresses are very sought after, even having been featured in '27 Dresses' with Katherin Heigl!
Nicole Miller, in my personal opinion, always has memorable curves, lines and cuts on her dresses. Sexy necklines, but classy! Just my kind of style…give something away, but leave a little or alot to the imagination! She has such a wide range of dresses, but all are very body flattering! I have worn and own her dresses, and always feel my best when in them!
The vendors offered new and cutting edge flavours, designs and sparkle! One vendor I'd like to point out as a personal favourite of mine, is Elsa Corsi and her mother Madalena of Jeweliette www.jeweliette.com at their new location on Hornby. If you're looking for that special broach, earrings, or anything that sparkles, she will make it for you and it will be timeless and well worth the investment! It will never go out of style! …and her and her Mom are just the nicest ladies you will meet.
Seeing all the Bride-to-be's out there, it was special for me to attend and see all the glitz and glamour that continues in this industry!
I finally got to meet Soha Lavin, Principal Planner of Countdown Events www.countdownevents.com and Creative Director for the Creme de la Creme Grand Wedding Showcase. I really wanted to meet her as it's always good to meet those who are at the top of their game, and are passionate about what they do!
All in all, an unforgettable, seductive show and I hope to be a part of it, in the years to come!