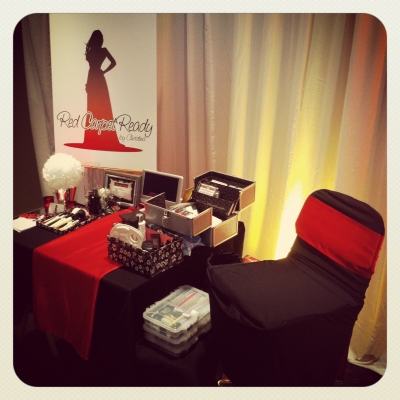 This past Sunday, Oct 21st the Brockhouse Restaurant held their 22nd Annual Wedding Show, put on by Sarah & Geneve at Dream Group Productions! www.dreamgroup.ca
It was my first time as an exhibitor with Red Carpet Ready by Christina! Of course I was nervous…but mostly excited for the day! See Im very familiar with the Brockhouse Wedding Show, as I've modeled in it about 4 or 5 times representing Isabelle's Bridal www.isabellesbridal.com…but to be there showcasing your business, is a whole other story!
But as I suspected, it was fun, well organized, I met amazing brides, like really amazing ladies! I felt like someone needed to pinch me! Just getting to talk to them about their big day and having them sit in my chair to get their makeup done…was amazing for me!
Most of the brides were actually getting married at the Brockhouse, some the interior, some the island, and even as far as Disneyland in California! Really great mix and dynamic of people…great vendors and just an amazing day if you're a bride-to-be or attending a wedding…or the MOH (maid of honor) this is the show you want to be at!
Thank you Sarah and Geneve from Dream Group Productions for letting me be a part of this show!
I heard nothing but awesome feedback, and I was so busy glamming up the ladies, that the day seemed to just fly by!
First trade show for my biz down…what's next…ohhhh the possibilities are endless!!
A big shout out to my step-sister Jessica…I could not have pulled this off without her! She manned my booth like the professional and personable person she is…and I couldn't think of anyone better to represent my brand…than her on my special day! Thanks Jessica xo