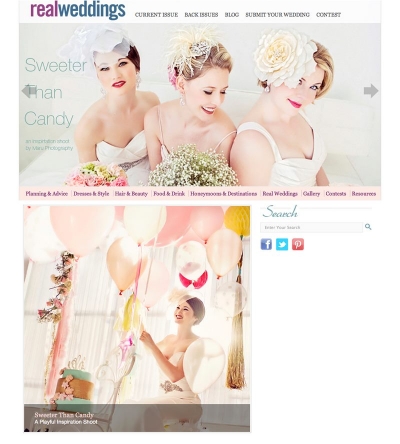 After being asked to be a part of a very well thought out and planned photo shoot with Kim Maru, of Maru Photography, I woke to the biggest reward this morning….We are featured in Real Weddings Magazine Blog!!!
This 'Sweeter than Candy' inspired photo shoot with the lovely Wedding Belles from Shaw TV's The Proposal and a talented group wedding industry colleagues has been featured this morning on the beautiful Real Weddings Blog!
Grab a cup or glass of something delicious and head on over to Real Weddings to check us out!
A very big thank you to Maru Photography for involving me who photographed and did the graphic design, Isabelle's Bridal Salon for the beautiful gowns, Cakes by Meg, Floral by Fleurish Florals, Hair adornments by Powder Blue Bijoux, Tuxedos by The Tux Store, Styling by Delovely Creative, on location at Sugar Studios, and to our models: the beautiful Julianna Sigalet and the handsome Theo Terry and Brandon Elliot along with Aubrey Arnason and Sarah Groundwater-Law of Shaw TV's The Wedding Belles.
We were awash in sweet delights—here's Part 1 of our sweet little collaboration!
http://www.maruphoto.ca/marublog.html