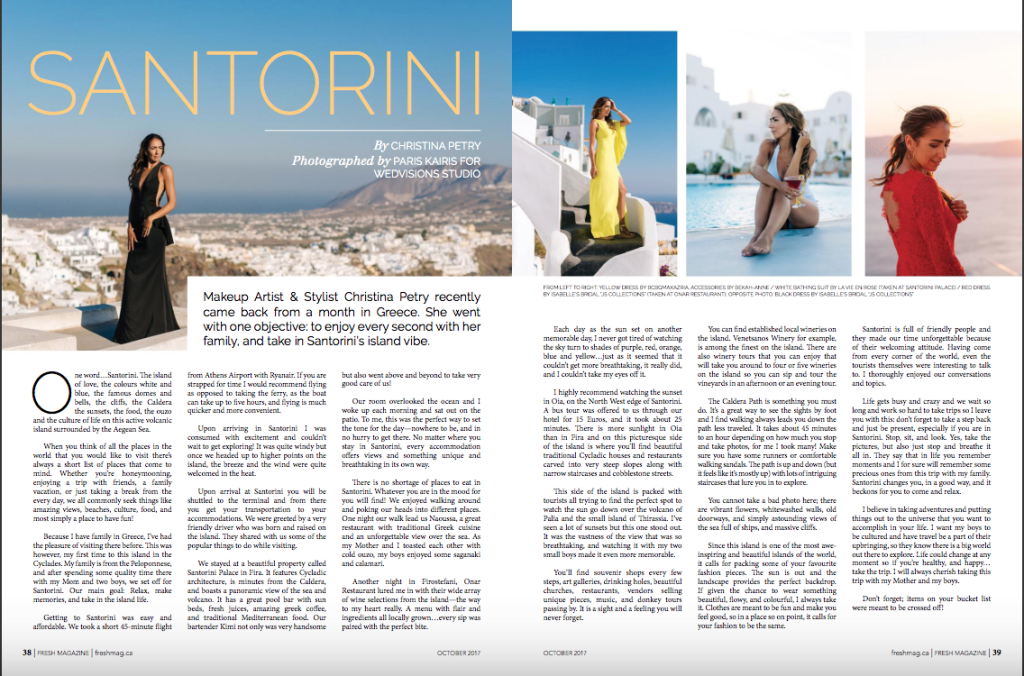 One word…Santorini.
The island of love, the colours white and blue, the famous domes and bells, the cliffs, the Caldera…the sunsets, the food, the ouzo and the culture of life on this active volcanic island surrounded by the Aegean Sea.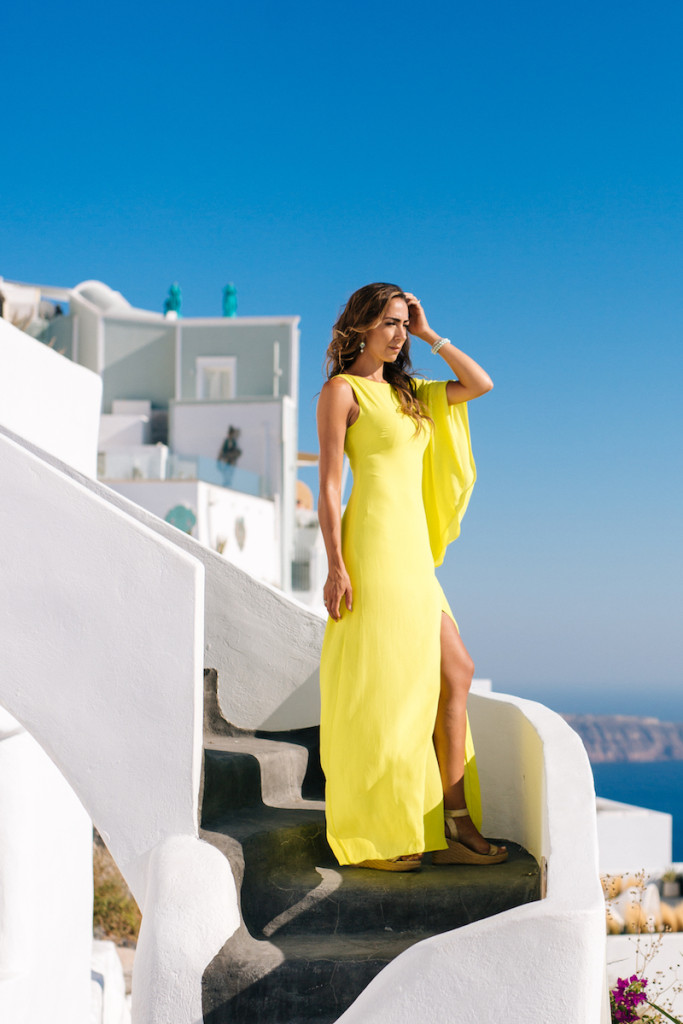 When you think of all the places in the world that you could visit…there's always a short list of places that come to mind.
Whether you're honeymooning, enjoying a trip with friends, family vacation, or just a break from the everyday we all seek common things like amazing views, beaches, culture, food, and most simply a place to have fun!
I've had the pleasure of visiting Greece before since I have family here…but it was my first time to this island in the Cyclades.
My family is from the Peloponnese, and after spending some quality time there with my Mom and 2 boys, we set off for Santorini.
Main goal : Relax, make memories, and take in the island life.
Getting to Santorini was easy and affordable. We took a short 45min flight from Athens Airport with Ryanair. If you are strapped for time I would recommend flying as opposed to taking the ferry as it can take up to 5 hours, and flying is much quicker and convenient.
Initially upon arriving in Santorini I was consumed with excitement and couldn't wait to get exploring!
It was quite windy but once you head up to higher points on the island, the breeze and wind is quite welcomed in the heat.
Upon arrival at Santorini you get shuttled to their terminal and from their get your transportation to your accommodations. We were greeted by a very friendly driver who was born and raised on the island, who shared with us some of the popular things to do while visiting.
We stayed at a beautiful property called Santorini Palace in Fira, features Cycladic architecture, minutes from the Caldera, and with a panoramic view of the sea and volcano.
It had a great pool bar with sun beds, fresh juices, amazing greek coffee, and traditional Mediterranean food.
Our bartender Kimi who was not only very handsome, but went above and beyond to take very good care of us!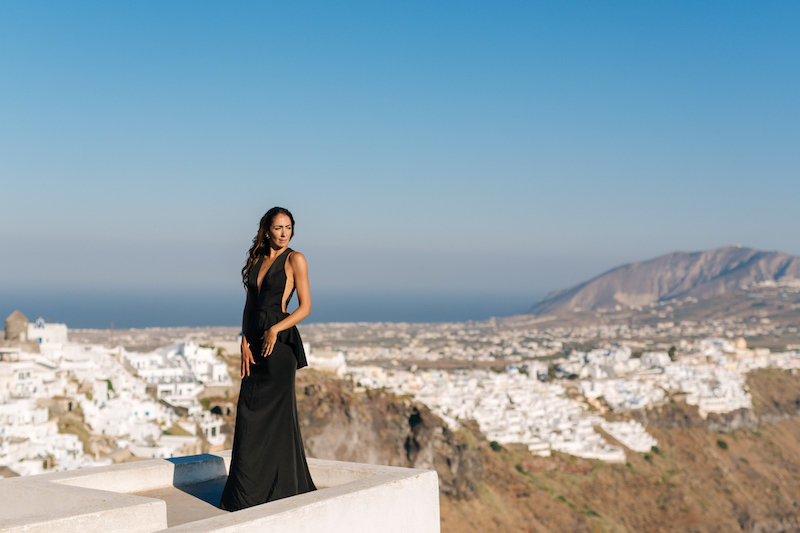 Our room overlooked the ocean and I woke up each morning and sat out on the patio. To me this was the perfect way to set the tone for the day…no where to be, and in no hurry to get there.
No matter where you stay in Santorini, every accomodation offers views and something unique and breathtaking in it's own way.
There is no shortage of places to eat in Santorini…whatever you are in the mood for you will find!
We enjoyed walking around and poking our heads into different places. One night our walk lead us Naoussa, a great restaurant with traditional greek cuisine and an unforgettable view over the sea.
As my Mother and I toasted eachother with cold ouzo, my boys enjoyed some saganaki and calamari…
Another night in Firostefani, Onar Restaurant lured me in with their wide array of wine selections from the island…the way to my heart really.
A menu with flare and ingredients all locally grown…every sip was paired with the perfect bite.
Each day as the sun set on another memorable day, you just never get tired of watching the sky turn to shades of purple, red, orange, blue and yellow…it's as if it couldn't get more breathtaking…it really does, and you can't take your eyes off it.
I highly recommend watching the sunset is in Oia, on the North West edge of Santorini.
A bus tour was offered to us through our hotel for 15 Euros, and it took about 25 minutes.
There is more sunlight in Oia, than in Fira and on this picturesque side of the island is where you'll find beautiful traditional cycladic houses and restaurants carved into very steep slopes. along with narrow staircases and cobblestone streets.
This side of the island is packed with tourists all trying to find the perfect spot to watch the sun go down over the volcano of Palia and small island of Thirassia.
I've seen a lot of sunsets but this one stood out.
It was the vastness of the view that was so breathtaking, and watching it with my 2 small boys made it even more memorable.
You'll find souvenir shops every few steps, art galleries, drinking holes, beautiful churches, restaurants, vendors selling unique pieces, music, and donkey tours passing by.
It is a sight and a feeling you will never forget.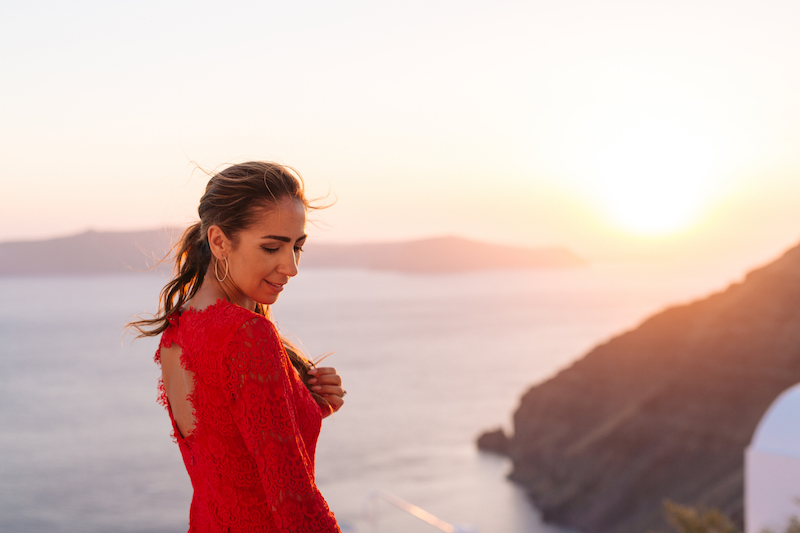 Dress : JS Collections – Isabelle's Bridal 
You can find established local wineries on the island…like Venetsanos Winery, which is among the first on the island. There is also winery tours that you can enjoy that will take you around to 4 or 5 wineries on the island so you can sip and tour the vineyards in an afternoon or evening tour.
The Caldera Path is something you must do. It's a great way to see the sights by foot. I find by foot always leads you down the path less traveled. It takes about 45 min to an hour depending on how much you stop and take photos, for me I took many!
Make sure you have some runners or comfortable walking sandals.
The path is up and down (but it feels like it's mostly up) with lots of intriguing staircases that lure you in to explore.
You simply cannot take a bad photo here, there is vibrant flowers, white washed walls, old door ways, and just simply the astounding views of the sea full of ships, and massive cliffs.
Since this island is one of the most awe-inspiring and beautiful islands of the world, it calls for packing some of your favourite fashion pieces. The sun is out and the landscape provides the perfect backdrop.
So, if given the chance to wear something beautiful, flowy, and colourful…I always take it.
Clothes are meant to be fun and make you feel good, so in a place so on point…it calls for your fashion to be the same.
Santorini is full of friendly people and it made our time unforgettable because of.
Even the tourists themselves were interesting to talk to having come from every corner of the world, and I thoroughly enjoyed our conversations and topics.
Life gets busy and crazy and we wait so long and work so hard to take trips…so I leave you with this…
Don't forget to take a step back and just be present, especially if you are in Santorini.
Stop, sit, and look.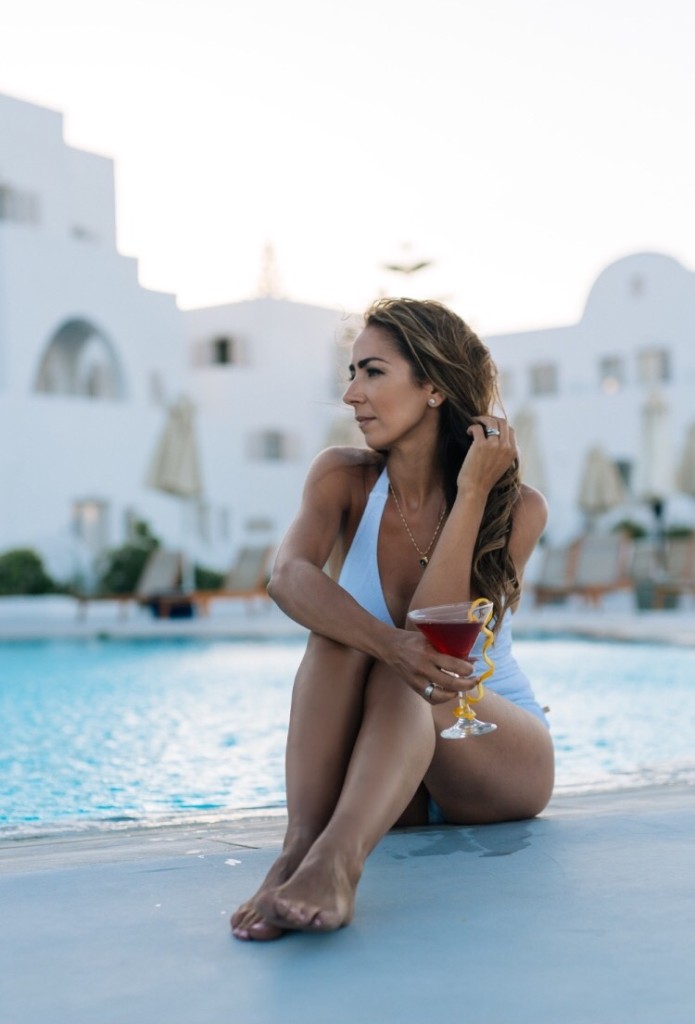 Yes take the pictures but also just stop and breathe it all in.
They say in life you remember moments and I for sure will remember some precious ones from this trip with my family. Santorini changes you, in a good way, and it beckons for you to come and relax.
I believe in taking adventures and putting things out to the universe that you want to accomplish in your life.
I want my boys to be cultured and have travel be a part of their upbringing, so they know there is a big world out there to explore.
Life could change at any moment so if you're healthy, and happy…take the trip.
I will always cherish taking this trip with my Mother and my boys.
Don't forget…items on your bucket list were meant to be crossed off!
~
CREDITS
HUGE Shout out to Shelly from Fresh Magazine for featuring my story in the October issue!
Creative Director : Red Carpet Ready by Christina 
Big thanks to my partners…
Photographer :  Paris Kairis for WEDVISIONS STUDIO
Red Dress : Isabelle's Bridal 'JS Collections'
Black Dress : Isabelle's Bridal 'Alyce Paris'
Yellow Dress : BCBGMAXAZRIA 
Jewelry : Bekah-Anne 
Bathing Suit : La Vie en Rose