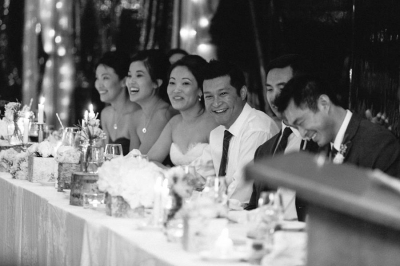 This past Friday, I had the pleasure of being asked to do Makeup & Hair for the Wedding of Sumeuy Cheo.
Getting the Bride and her Bridal party ready is always fun, and I've gone to all kinds of locations…houses, cottages, etc…but getting this Bridal party ready in the Gold Suite at Fairmont's Hotel Vancouver property, was a delicious treat!
It couldn't of made for a better backdrop. I had my clients staring out the window onto the beautiful downtown setting of Vancouver…and the weather couldn't of been more perfect for this early in May.
Natural sunlight on their faces, and decadent interior design covered the room.
Not only was there makeup, hair appliances, sprays, lotions, lipsticks, and bobby pins everywhere, but there was also Manolo's, scents of Marc Jacob, little blue boxes that we all love to recieve, lace, and silk….oh and I can't forget towers of macaroons, mimosa's, and scrumptious treats!
My assistant and I got the Bridal Party of 5 ready, and enjoyed every minute of it! We had a mixture of updo's and down styles. The Bride wore a beautiful birdcage, with diamond embellishment and a perfectly placed diamond over the eye. I enjoyed putting this on her, as it was just the perfect final touch, along with her decision to say 'Yes to the Dress' from Kleinfeld's in New York City!
For the Brides makeup, I did a soft, smokey, inviting eye using Shady Lady by the Balm eyeshadows, and Benefit's Sugarbomb gloss for kissable lips, and a very pretty, but sophisticated criss cross ponytail.
The Bride was given a vintage Chanel bracelet from her soon-to-be husband, and her precious little dog Stella was prancing around the hotel room in a tutu, custom made by Sumeuy! It was adorable!
Mikaela Ruth was the photographer on hand with her husband Shane…they were a part of Sumeuy & Randy's story even in New York for their Engagement Photo Shoot. They captured the true love between these two, and it's evident in the photos! It was such a pleasure to work with Mikaela, she is a very talented person!
This was a Wedding I won't soon forget!
I love what I do, and I love the Makeup & Beauty Industry!
Every client is different and unique, and that's my favourite part…meeting new people and creating memories!
10 days till my next Wedding…Wedding Season is officially here!
Check out more photos here…