In the July/August issue of Fresh Magazine I share some of my fave things in fashion, beauty, and lifestyle!
Moto:  Soak up the magic of summer, and take as many adventures as possible!
What's in my Bag
Whether you're off to work, meeting up with friends, taking off for the weekend, or heading poolside, you need the right essentials in your bag!
I always have Sunscreen on hand for protection from sunburns, and preventing any damage to my skin.a
Nail Polish in a fun summer hue! Get your toes ready for sandals with a fresh pedicure and a new pop of colour.
Hydrate! Single use water bottles are not cool…but reusable ones are! Find one that suits your style and take with you everywhere to hold your fave drink!
Fragrance! To me no outfit is complete until a spray of your favourite scent is added.
Switch up your perfumes to a lighter, more playful, fruity scent!
Sunglasses! A must have Fashion accessory, and so many styles to choose from…so be savvy and find a pair that you can wear with just about everything.
Refresh! After a long day in the Sun, your skin can feel hot, sore and even dry from exposure…so keeping the skin not only protected, but hydrated is key. Thermal water sprays are a great way to help soothe on the go!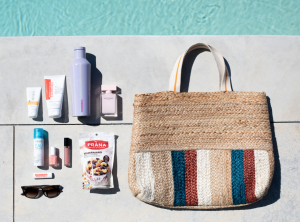 That Sun-kissed Look
There is nothing more sexy than beautiful skin! Think less Makeup in the summer though…as you never want to have that thick heavy look.
I have a pressed powder I really enjoy that contains SPF aswell, so throughout the day I can do touch ups and reapply while still getting protection from the sun.
We all want that bronzed glow and it doesn't haveto be accomplished by sitting in the sun for hours.
Self tanners are made so great these days, and go on so naturally…so find one that's right for you, then show off those legs. I also love adding a shimmer spray over me legs and arms, for that extra "summer glow".
I'm a personal fan of bronzers with soft gold tones that also work as a highlighter, lip gloss with pops of colour, like dark pinks or peaches that are easy to apply on the go and no lip liner required. I always keep my brows groomed and filled, and switch to a waterproof pencil for long wearing in the sun. I love cream blushes and apply just a dab on the apples of my cheeks with my fingers which gives a more natural look. Don't forget to curl your lashes and apply some mascara which opens up the eye and creates a longer lash look.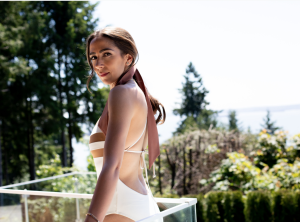 Living for the Weekends
It's been a long week, but when Friday comes it's a whole new world of adventure about to take place!
Whether you're taking off on an adventure or doing some patio hopping at your local watering holes, having an escape is what we all need!
Wherever you go, take your Fashion with you! From a Style perspective, Summer offers a whole new season to really showcase your personal style while you beat the heat.
The way a flowy Maxi dress feels when you wear it, your go-to wedge sandals, cute Fedoras, sundresses so cute you never want to take it off!
So many styles and trends to choose from! Dress like your going on holidays!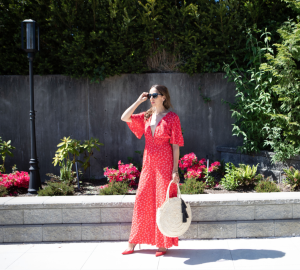 By the pool is where you'll find me
Whether your toes are in the water, or lounging in the perfect chair…nothing beats being poolside with a cold beverage in hand. So pull out that cute one or two piece bathing suit and rock what ya got! Designers make it so easy to find the suit that suits you best! I always suggest to pick parts of your body you love the best and show them off! One pieces are on trend and come in so many different styles, colours and fits…so don't be shy! Pool parties are a great opportunity to make your swimsuit more of an outfit. Don't be afraid to accessorize with hair scarves, jewelry, surrongs, and sun hats. Let the music fill the air, hear the beat, feel the warmth on your skin and the summer vibes all around you.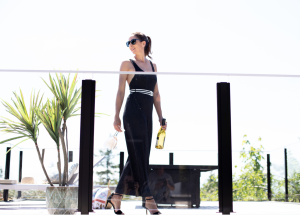 Entertaining
I absolutely love to host friends at my home. Growing up Greek, all the energy and vibes came from inside our house and mostly around the the kitchen. My Mom loves to entertain and my father has owned many restaurants so you could say I was kinda born to continue that tradition in my own life. I love to create an experience that makes my friends and family feel happy and to make new memories. Entertaining doesn't haveto be a lot of work…just make it fun! Being a former Bartender and having worked in the fine wine + spirits industry, if you come to my house I will always have fun cocktails ready to sip! We love to cook and my husband is the BBQ Grill Master…so when we host, it makes us so happy to look around and see everyone being together. Thank goodness the days are longer so we can keep the party going!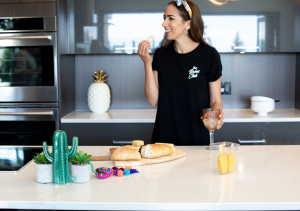 Summer will go by in a flash…so soak it up and make some epic memories!
Christina -xo-